When picking new cabinets, there are two types of construction to consider: framed vs frameless cabinets. Both provide varied design possibilities and unique benefits. At Hofmann, we're here to help you make an informed decision, so you can pick the cabinet style that suits you best. Let's dive in!
The Difference Between Framed vs. Frameless Cabinets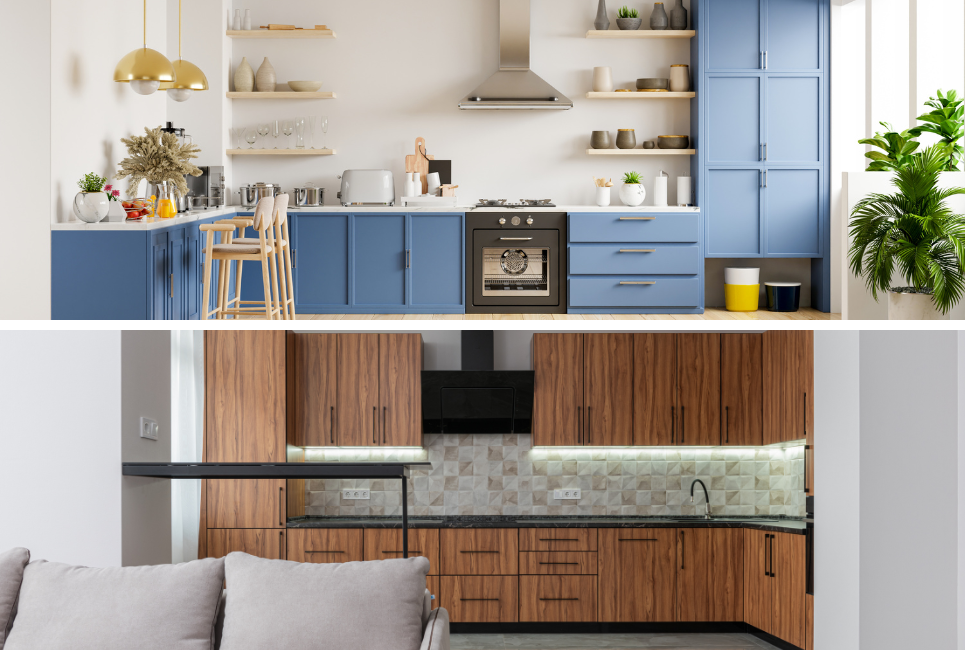 Framed and frameless are the two main types of cabinetry. Framed cabinets are a standard American style, where the cabinet door gets secured to a frame. This construction provides a traditional look with more strength and a wide variety of design options.
In comparison, frameless cabinets are more common in Europe but have recently gained popularity in the states. With these types of cabinets, the manufacturer drops the frame and secures the door to the cabinet box. Because of the construction, these cabinets provide a modern look with additional storage space. Also known as "full access" cabinets, they're great for smaller kitchens to maximize space.
Framed Cabinets
What Are Framed Cabinets?
Framed cabinets are also known as "face frame" or "American style cabinets." Framed cabinets are a versatile choice for your kitchen or bathroom remodel. As the name suggests, the front of the cabinet is framed, and the doors and drawers are attached to the frame instead of the cabinet box.
You can identify a framed cabinet by the noticeable trim boards implemented to strengthen the construction of the cabinet box. These boards are often made of hardwood. Manufacturers typically construct cabinet boxes from engineered wood that is less prone to water damage and easier to install because of its lighter weight.
Pros of Framed Cabinets
Framed cabinets come with several advantages. Let's take a look at some below:
In framed cabinets, the doors secure meticulously to the frame, giving the cabinet adequate strength and sturdiness.
Framed cabinets are typically adjustable as they attach the door hinges to the frame face and shelves.
Partial and full overlay, as well as inset cabinet doors, can be used with framed cabinets. These styles give you abundant design opportunities to create a customized look for your cabinetry.
Cons of Framed Cabinets
In framed cabinets, the frame shape creates a small "lip" on the interior which can be an obstacle. If you want to be able to slide your plates out of the cabinet seamlessly, then you may not like the "lip." However, the "lip" sanding process removes this in high-end custom cabinetry.
Drawers and roll-outs have less interior space than those in a frameless cabinet because of the bulkiness of the frame.
Frameless Cabinets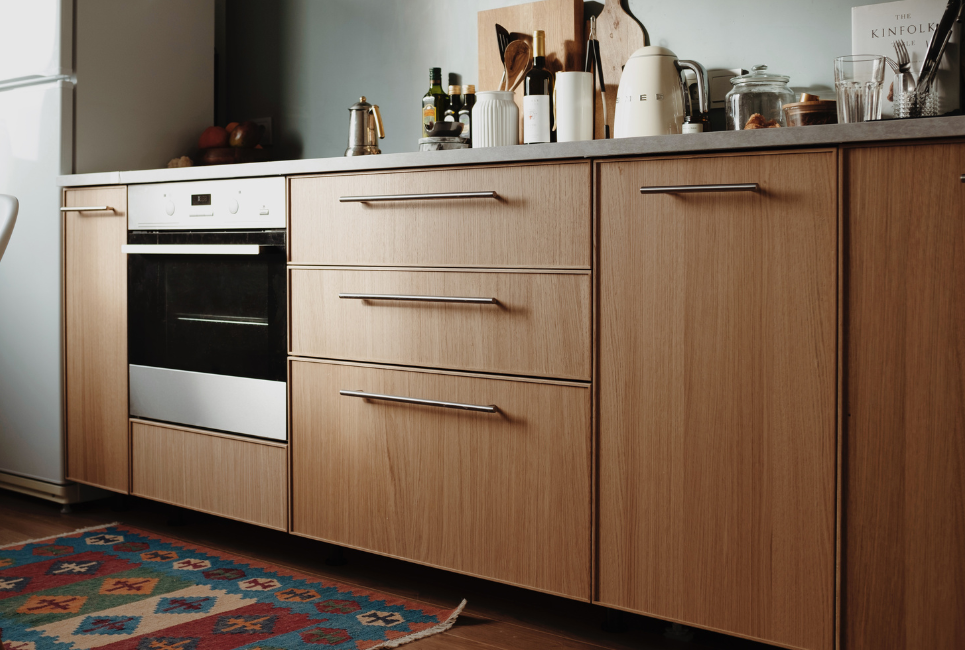 What Are Frameless Cabinets?
A more contemporary cabinet design, frameless cabinets are the European style of manufacturing cabinets that has become increasingly popular in the US. The concept is simple – by removing the face frame, only the box remains. The doors attach directly to the sides of the cabinet box for a clean, modern look. Without the frame, frameless cabinets rely on a thicker box for strength and stability. Since the doors are mounted to the sides of the box and cover the entire cavity, only full-overlay doors are possible.
Pros of Frameless Cabinets
Frameless cabinets are a better option for smaller kitchens where every inch matters. They offer a modern look, more drawer and cabinet space, and no center stiles that get in your way.
They are sturdy because the frame provides a flat, strong area to hang the cabinet doors. The hinges attach solidly to the hardwood face frame.
The frame prevents the cabinet from getting "out of square." If the cabinet does not stay square, i.e., keep its 90-degree angles sharp and accurate, doors will stick, and drawers may not open properly.
Since framed cabinets can accept any door and drawer front, they offer lots of style flexibility. The doors and drawers attached to the face frame create different looks.
The face frame is between the doors and drawers in the partial overlay.
In full overlay, the doors and drawer fronts cover the frame completely. You only see it when you open the doors and drawers. You can incorporate full overlay in both traditional and transitional styles.
In inset styles, the doors and drawers fit inside the face frame. When you look at a run of cabinets, the doors, drawers, and face frame form a smooth, flat surface.
Cons of Frameless Cabinets
Frameless cabinets sometimes have a bad reputation for being less durable than those with a face frame. However, frameless cabinets built by high-end manufacturers for their boxes have no issues with strength or durability.
Hinges mounted to the sides of the cabinet may need adjustment to keep the doors straight and the cabinet fronts looking symmetrical.
How to Choose the Best Cabinets For You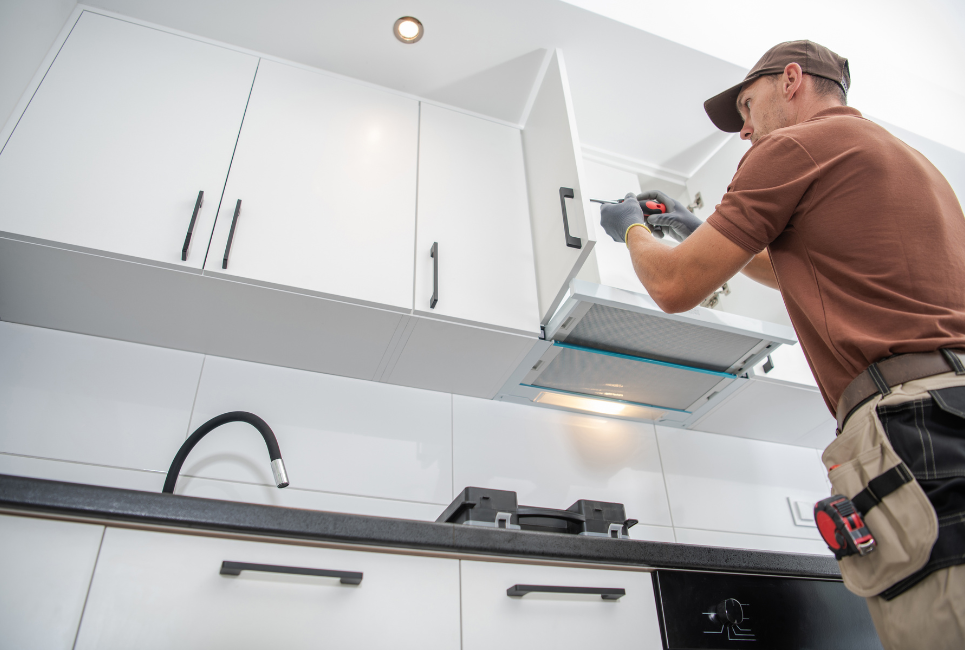 Choosing the best cabinets for you will come down to factors such as your available kitchen space, preferred aesthetic, and budget. The following factors may influence your decision-making process:
Framed Cabinets
These cabinets are preferable for kitchens with plentiful cabinet space where extra room isn't required. They are also best for those who like a traditional design style. Framed cabinets are a fantastic choice if you like decorative hinges, flexibility for door options, (inset, partial-overlay, or full-overlay), and want to keep hinges concealed through glass cabinets.
Frameless Cabinets
Frameless cabinets will be your best bet if you are looking for a modern or contemporary design style. These cabinets don't have a face frame— they feature engineered wood and directly attached hinges. They offer superior storage space and have larger drawers. Frameless cabinets are a better option if you have a smaller kitchen space.
Conclusion
We hope you have gained some clarity and inspiration on framed vs frameless cabinets and which choice is right for you. Contact our team of architects, planners, and interior designers if you would like help with your design or building needs.