If you want new cabinets, look for ones that meet your specific criteria and choose your preferred option – stock, semi-custom, or custom. Factors such as your budget, preferred style, and kitchen layout will all come into play as you make your final decision. With this in mind, let's review our top-selected kitchen cabinet brands for stock, semi-custom, and custom cabinets and look at the key differences between each category.
Stock Cabinets
First up on our list of different cabinet options are stock cabinets. If you want to save significant time and money, look no further than stock cabinets.
What's Stock Cabinetry?
Stock cabinets, also known as in-stock cabinets, refer to cabinet boxes that are manufacturer-built based on industry-standard styles and measurements.
Stock cabinets features:
Pre-built and generally ready for immediate installation pre-purchase.
Typically limited design and finish options, but accents such as cabinet hardware can help create a more customized look.
Mostly a more affordable option, making them the best choice when the cost is a deciding factor.
Benefits of stock cabinets:
Stock cabinets are a convenient choice because of their price point and immediate availability. Here are some more benefits they offer:
On-trend Styles: Although not as unique as custom/semi-custom options, today's stock cabinets come in on-trend designs and styles.
Fast Availability: Most stock cabinets are available for in-store pickup or fast shipping if shopping online is your preference.
Convenient Upgrades: When you purchase stock cabinets, you can accessorize with added pullouts, organizational drawers, hardware accents, and more.
Robust Construction Process: Manufacturers build stock cabinets using composite case construction, which is optimal for durability and strength.
Best Stock Kitchen Cabinet Brands
Massachusetts Design
If you are looking for beautiful stock Kitchen Cabinet Brands, look no further than Massachusetts Design Modern, chic, functional, and affordable — Hanssem cabinets are perfect for your stock cabinetry. These cabinets come in a wide range of styles and pricing, so you can easily find an option tailored to your taste and budget.
Massachusetts Design offers a wide variety of stock kitchen cabinets, including brands such as Fabuwood, which includes six economic-friendly lines: Allure, Classic, Value, Premium, Quest, and Prima. Find out more about Massachusetts Design's stock kitchen cabinets here.
Signature Series from Adornus
Based in South Carolina, Adornus builds timeless kitchen cabinets that help people create memories. Their Signature series provides homeowners with a cost-effective, timely solution. It is a complete-access cabinet that boasts trending colors, attractive door styles, and an all plywood box. The Signature series is where quality meets value.
Semi-Custom Cabinets
Next on our list are semi-custom cabinets. Semi-custom cabinets are a great option for those who want customization, but don't want to pay as much as custom cabinets.
What is Semi-Custom Cabinetry?
Semi-custom cabinets are similar to stock cabinets but come with extra detailing options. The cabinetry size, shape, and dimensions are still the same, but you can change them to fit your style. For example, you can resize the cabinet drawers or increase/decrease the cabinet depth.
Semi-custom cabinets features:
Design Input: You can control design input without the extra price tag of custom cabinets.
Better-Fitting Cabinetry: Semi-custom cabinets allow for small dimension changes, which create a seamless fit. As a result, semi-custom cabinets can create precise height, width, and depth per your requirements.
Simpler Design Process: You can design more easily for semi-custom cabinets. Start with cabinets you like and make small changes to fit your space.
Best Semi-Custom Kitchen Cabinet Brands
Bremtown Cabinetry
Bremtown Cabinetry pride themselves on true craftsmanship and excellence – illustrated in all their creations. They combine the finest detailed hand-craftsmanship
with state-of-the-art machinery to create an incredible fit and finish for each cabinet. Available in a variety of designs and textures, including quarter-sawn woods, exotic veneers, trim and detailing, stains, colors, textures, sheens, and glazes. Their team of artisan craftspeople has 15 years of perfecting the process. They pick the finest hardwoods, properly prepare them, and use top-shelf finish material in a meticulous multi-step hand application.
Please visit their website here to get in touch with Bremtown Cabinetry and explore their many styles, materials, and designs for your semi-custom cabinetry.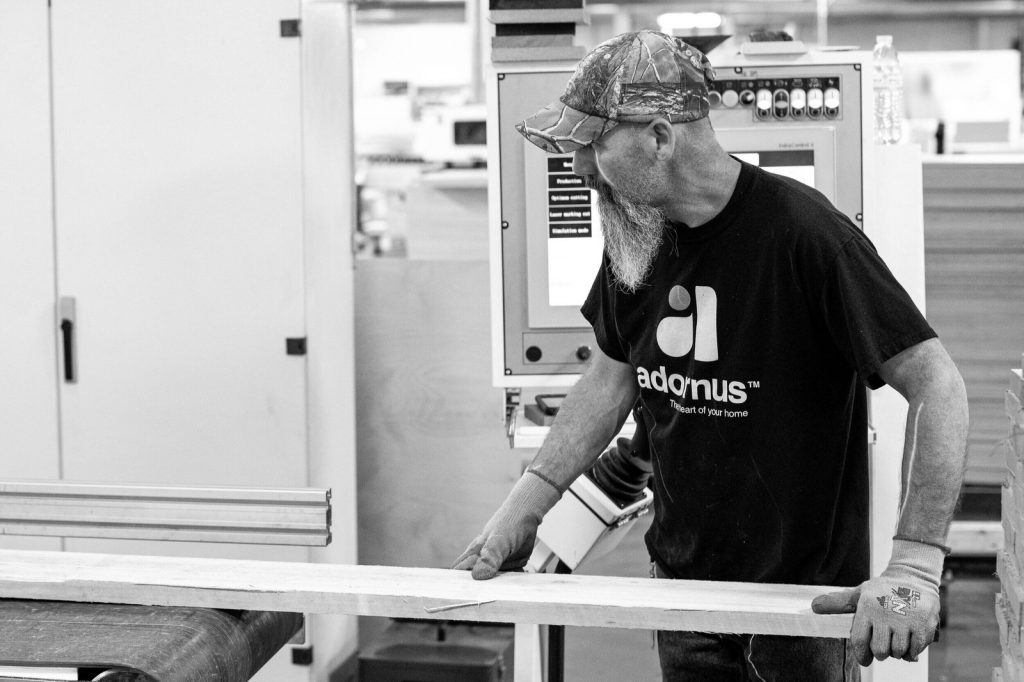 Adornus
Adornus offers a range of styles, colors, and finishes to make your kitchen unique. They build every cabinet in their South Carolina facility using top-quality materials and machinery. Adornus is committed to quality and has a team that oversees all stages of the manufacturing process. They manufacture their own doors and box components and handle finishing in-house, allowing immediate response to demands and consistent quality control.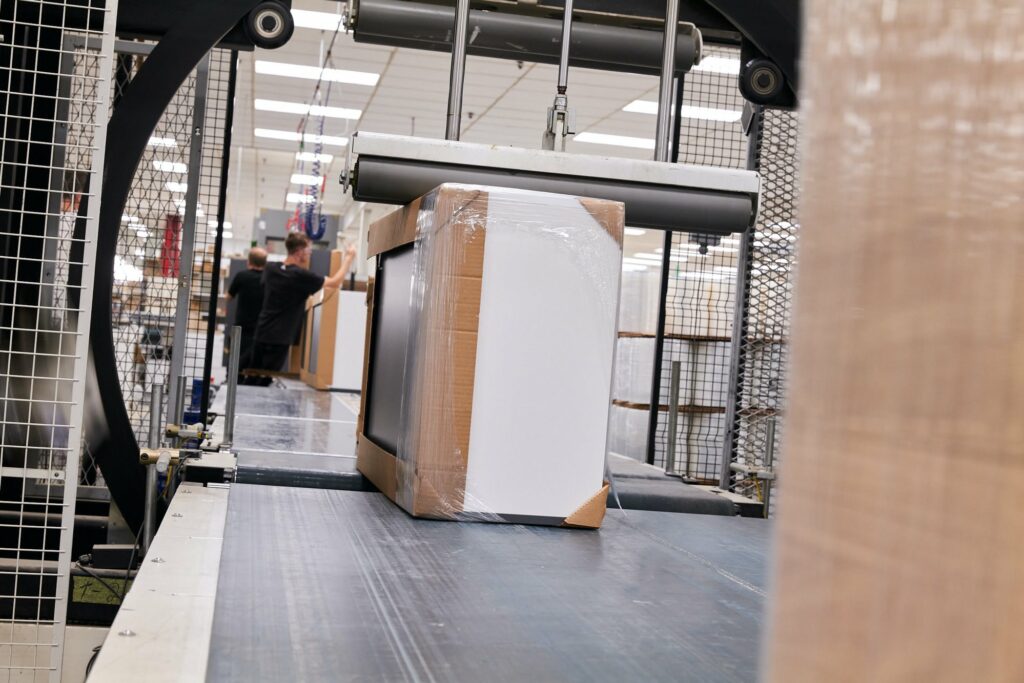 Cuisine Ideale Inc.
Cuisine Ideal (CI), a company with 50 years of expertise, excels in crafting luxury cabinets that blend functionality and timeless elegance. They've delivered 250,000 personalized designs and have 200+ sales points across North America.
CI draws inspiration from global influences to create world-class cabinet designs, ensuring an exceptional human experience and premium quality. Their mission is clear: enhance living spaces with unique, functional, and perfect design.
Fully-Custom Cabinets
Finally, we have fully-custom cabinets. If you have some more stretch to work with within your budget and are looking for a unique, tailored option, fully custom cabinets will be perfect.
What is Fully-Custom Cabinetry?
Fully-custom cabinetry allows you to tailor your kitchen design to the finest detail of your preferences. By working with a professional designer, you can strategically tailor your kitchen design to match your lifestyle.
Some considerations you should bear in mind regarding custom cabinets include the following:
This option is more expensive due to the high customization and craftsmanship involved in the process.
Fully-custom cabinets are ideal for kitchens with irregular shapes or tricky corners to navigate, as you can have them seamlessly fit into your space.
Because of the time it takes to fully customize your cabinets, in-home delivery can take up to nine weeks or more.
Here are some benefits that custom cabinets offer:
Custom: Make a statement with a variety of colors and material combinations.
Premium Personalization: Personalize them with decorative molding and glass door upgrades.
Superior Versatility: Modify cabinet depths, widths, and heights to fit your exact space.
Premium Function: Select from a wide array of storage and organization accessories to make every cabinet as functional as possible.
Best Custom Kitchen Cabinet Brands
For the best kitchen cabinet brands, we always suggest going local. Due to the high level of collaboration you will have with your cabinetry designer, keeping this process close to home eliminates communication stresses. Furthermore, if you're worried about your carbon footprint, a locally-sourced custom cabinetry maker will reduce carbon expenditure by not transporting wood over long distances.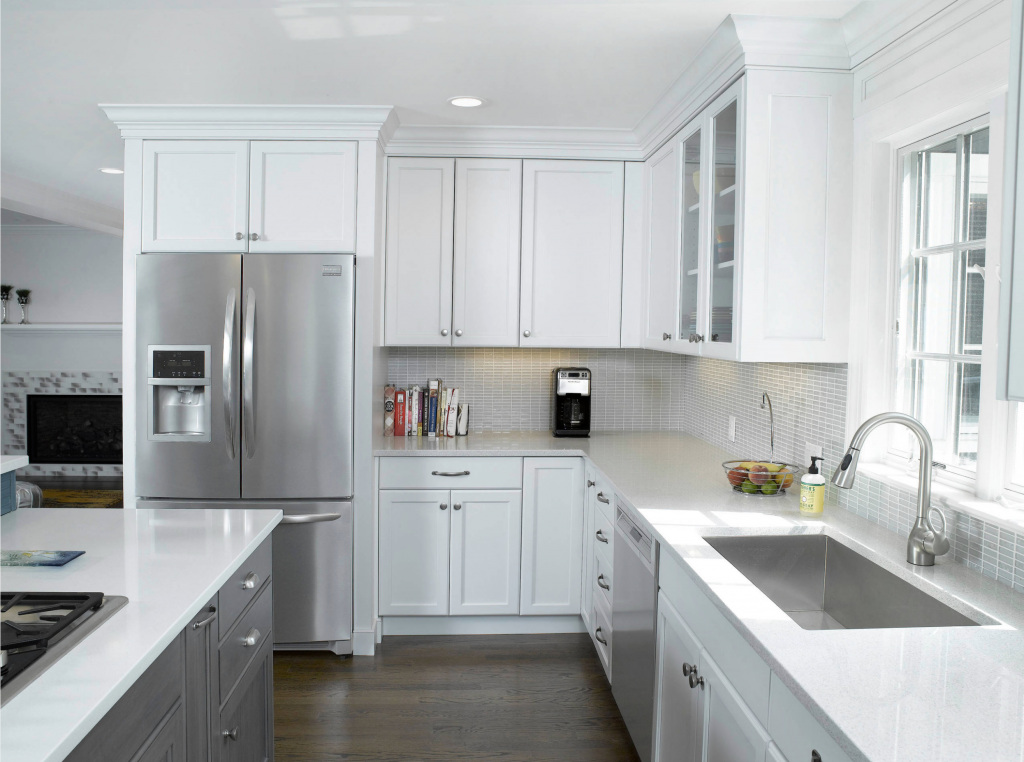 The Differences Between Stock, Semi-Custom, and Custom Cabinets
As discussed in the above sections, stock, semi-custom, and custom cabinets also vary in differing factors and price points. To summarize the categories' key differences, here is a quick recap:
Stock Cabinets
These differ from semi-custom and custom cabinets due to factors such as:
A more affordable price point.
Pre-built, complete with in-place finishes.
Generally ready for quick installation.
Semi-custom Cabinets
More customizable than stock cabinets but less specifically tailor-made than fully custom cabinets.
Design input is available without the cost of custom cabinets.
Incremental personalizations are available.
Custom Cabinets
A more expensive price point than stock and semi-custom options.
A longer delivery time and installation process.
Option to modify cabinet depths, widths, and heights to fit your exact space.
Conclusion
If you are looking for help with remodeling or designing your home, our team at Hofmann Design Build is more than happy to help! We offer one source for all your remodeling needs, including project design, kitchen design, and interior design. If you would like to learn more, please get in touch with our team here.