Are you looking to spruce up your kitchen? A kitchen remodel can add value to your home and make it a more enjoyable space to cook and spend time. Between appliances, countertops, cabinets, sinks, flooring, and lighting, there are many components to consider when planning a kitchen remodel. Let's dive deeper into each of these elements and explore how they can transform your kitchen into a beautiful and functional space.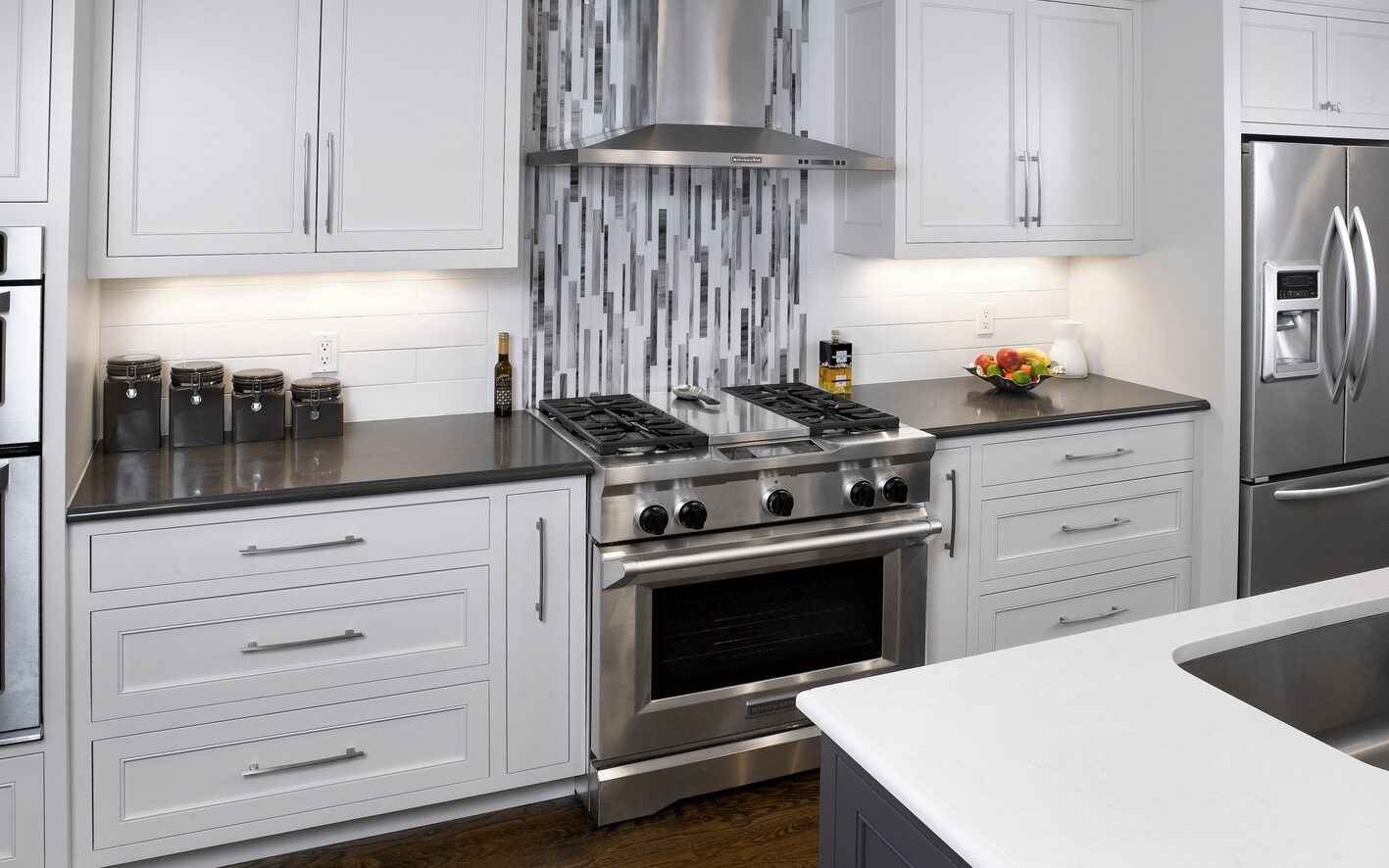 Appliances
Appliances are the backbone of any modern kitchen. From cooking to storage, they make life easier and more efficient.
Having the right appliances in your kitchen can take your cooking game to the next level. With smart appliances, you can access features like remote oven preheating and getting recommendations for recipes based on what's inside your fridge. You can even control certain appliances with your voice or through an app.
Choosing the right appliances should be a top priority when remodeling your kitchen. Not only do they make your life easier, but they add value to your home. Many home buyers look for modern appliances when searching for a new home, so investing in high-quality appliances can pay off in the long run.
When selecting appliances, consider the layout of your kitchen. If you have a smaller space, consider smaller appliances that won't overcrowd the area. If you have a larger kitchen, you can opt for larger models that provide additional features. Look for appliances with energy-saving features to help reduce your utility bills.
Additionally, pay attention to the warranties of the appliances. You want to make sure your appliance is covered in the event it malfunctions. Finally, think about your budget when shopping for appliances . Priority should go to appliances that'll make the space functional.
Resources
Resources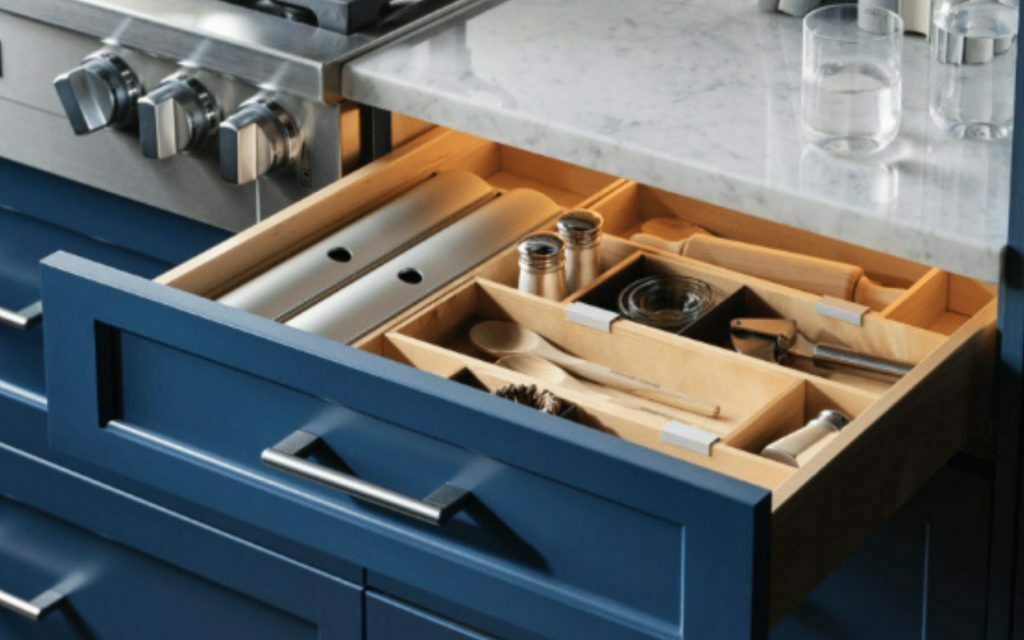 Cabinets
Cabinets are an essential component of kitchen design 101. They play an integral role in the functionality and style of the kitchen.
Cabinets provide storage space for kitchen utensils, cookware, and food items. They're vital to maintaining an organized and efficient space. Without adequate cabinet space, clutter can quickly accumulate on countertops and stovetops, making it difficult to prepare meals.
In addition to their functionality, cabinets contribute to the overall aesthetic of a kitchen. Their style, color, and material set the tone of a design. You can customize your cabinets to match any style, from traditional to modern and everything in between. They also bring character and texture to a room, creating a welcoming atmosphere.
Cabinets are an investment in your kitchen, and as such, they should be chosen wisely. Quality construction and durable materials will make sure that your cabinets withstand the wear and tear of daily use. Well-designed cabinets can increase the value of your home and provide a return on investment that lasts for years to come.
Resources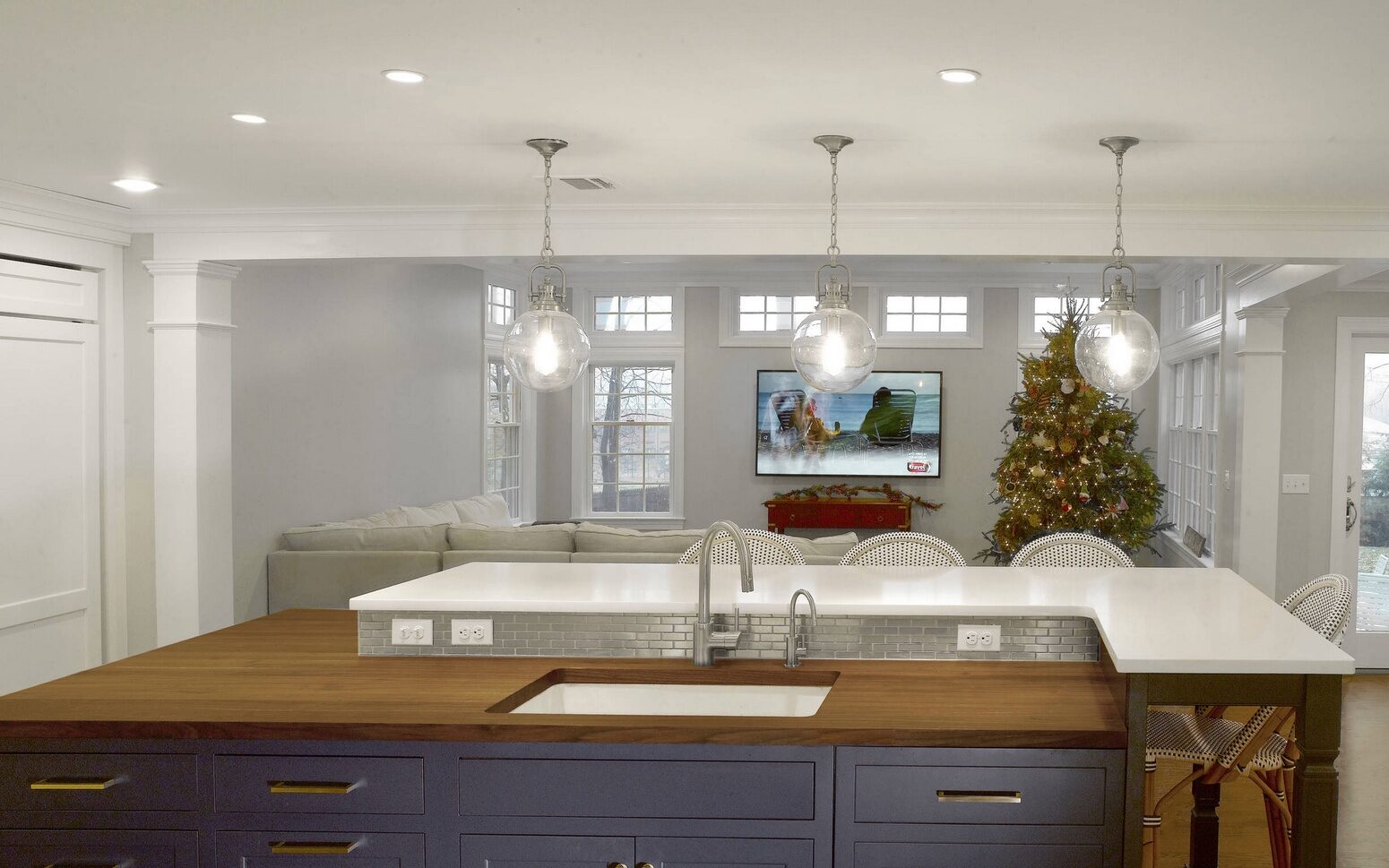 Countertops
Kitchen countertops are a crucial component in any kitchen remodel. They not only provide a functional work surface for food preparation, but they also define the kitchen's aesthetic.
Countertops are the most heavily used surface in the kitchen and should be able to withstand daily wear and tear. A countertop made of a durable material such as granite or quartz will last for many years and require little to no maintenance.
In addition to durability, countertops are also important for hygiene purposes. Properly sealed countertops prevent bacteria from growing in cracks and crevices. This feature is especially important when handling raw meat and other hazardous foods.
Ultimately, a well-chosen countertop enhances the overall functionality of your kitchen, making it an enjoyable space to prepare meals and entertain guests.
Choosing the right countertop for your kitchen can be a challenge, but it's important to consider both functionality and aesthetic appeal. Consult with a professional to determine which material will best suit your needs and budget.
Countertop Options
Laminates are very popular and probably the lest expensive option. They're attractive but not as durable as some of the alternatives.
Solid surfaces such as Corian come in many different colors and patterns. They're more expensive than laminates, durable, and quite attractive.
Granite/ Stone is a popular choice which includes marble slate and other natural stones. They're expensive, very durable, and luxurious in appearance. Granite/Stone will complement any kitchen's design.
Quartz is an alternative to stone, beautiful in its own right, scratch-resistant, easy to clean, and chip-resistant. Quartz is a newer kitchen option gaining popularity at the turn of the century.
Soapstone is also a natural stone with beauty and durability. It's similar in cost to quartz and granite, but it'll need more maintenance.
Custom Wood & Butcher Block countertops add a natural warmth and beauty to your kitchen. Wood needs treatment to prevent water stains and seal out germs. They're excellent work surfaces, but may need refinishing to keep their beauty.
Resources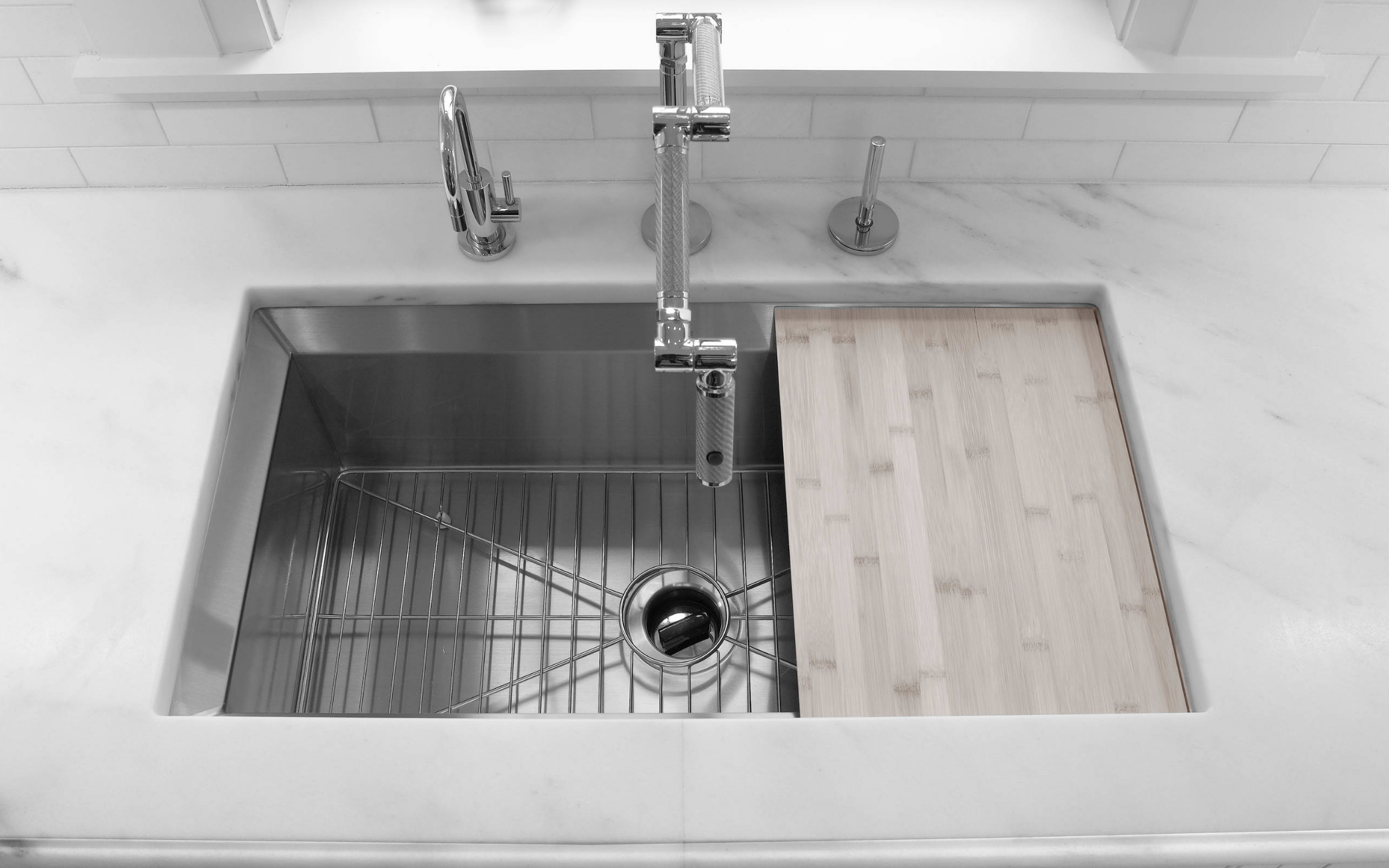 Sinks
When looking to redesign or remodel a kitchen, the sink is an important factor to keep in mind.
First, consider the size of your sink. It should be large enough to accommodate your family's needs or entertaining habits. Additionally, think about the material. Stainless steel sinks are the most affordable and easy to clean. However, if you want to add beauty and style to your kitchen, porcelain, cast iron, or composite stone sinks may be worth the investment.
Another element to consider is the faucet. Make sure it complements the sink design and is functional for your needs. Faucets come in different styles and finishes, so choose one that fits your preferences and budget.
Durability is important. You need a sink that won't scratch, chip, or stain easily. Also, think about how easy it is to clean the sink. Choose a material that doesn't require a lot of scrubbing or maintenance.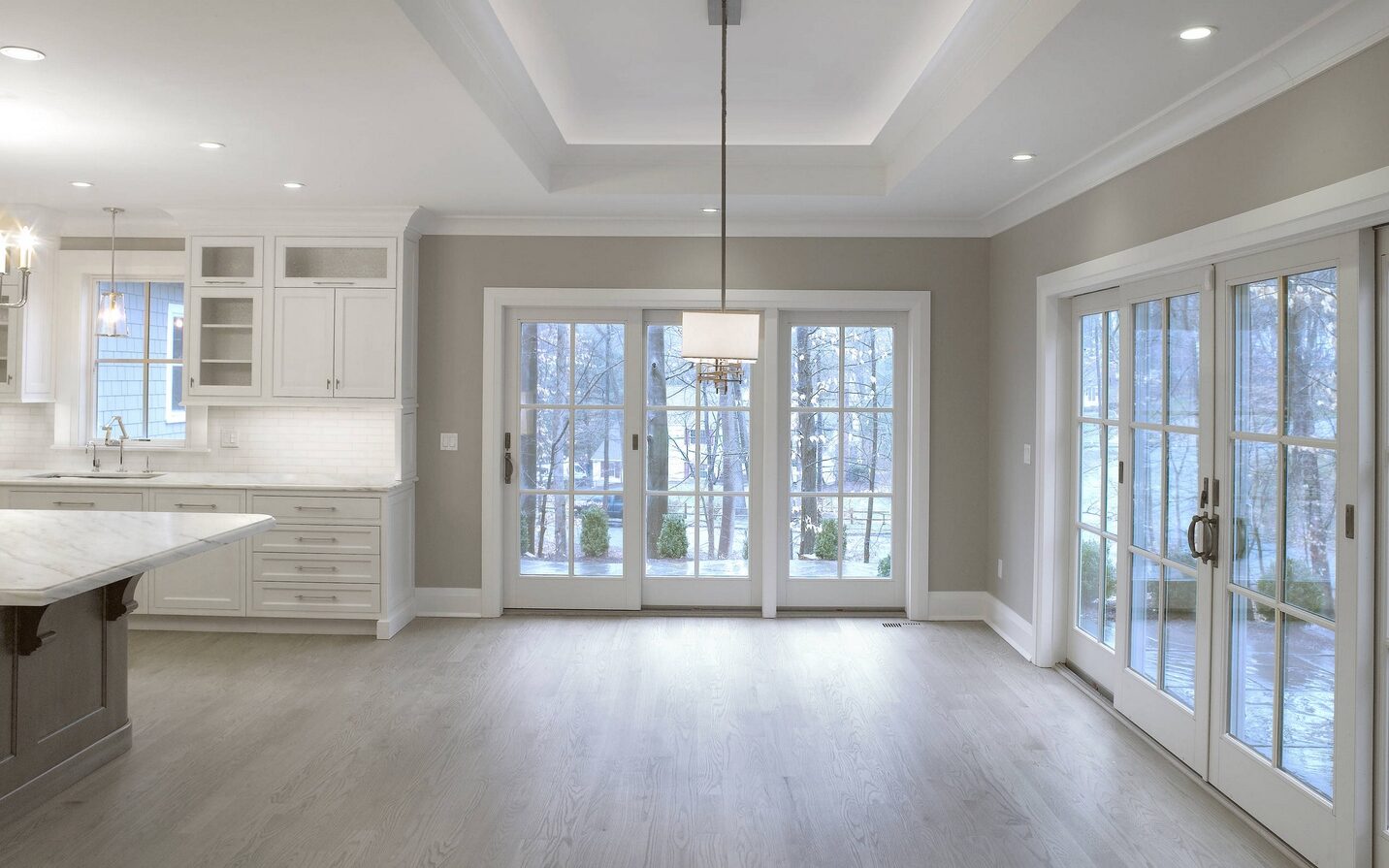 Flooring
Kitchen floors endure heavy traffic and spills daily, making them indispensable to a functional kitchen. The floors must be resilient and durable to withstand daily wear and tear.
When choosing the perfect kitchen floor, it's vital to consider style and layout. The kitchen is the heart of family life, and choosing a floor that complements your taste and meets your needs is essential. The floor should seamlessly flow with the rest of the room, creating a cohesive design.
Many options are available for kitchen floors, each with its advantages. It's crucial to consider the pros and cons of each option to make an informed decision. If the kitchen has an open layout, the floor should blend in with the other rooms. If your cabinets are stainless steel, a tiled floor would work best.
You shouldn't overlook maintenance and cleaning. Choosing a floor that's easy to clean is necessary. And maintaining the floor's beauty is critical to the longevity of the kitchen's overall design and functionality.
Flooring Options
Hardwood – classic and beautiful, it'll last for decades, it's low maintenance, and if prefinished, it's moisture resistant
Laminate flooring – this option is less expensive than wood, durable, and hard to tell its not wood
Bamboo – very trendy, technically a grass, bamboo is harder than some hard wood and comes in a variety of patterns, colors, and textures
Porcelain tile – probably the toughest flooring, the beauty of stone and low maintenance
Cork – an eco-friendly choice made from sustainable tree bark, it's softer and slip resistant and quite attractive
Vinyl – it's soft, great for standing for long periods, easiest to maintain, budget friendly, and available in a wide range of colors and patterns
Linoleum – comes in many colors and styles, the durable surface stands up to water, heat, and scratching
Resources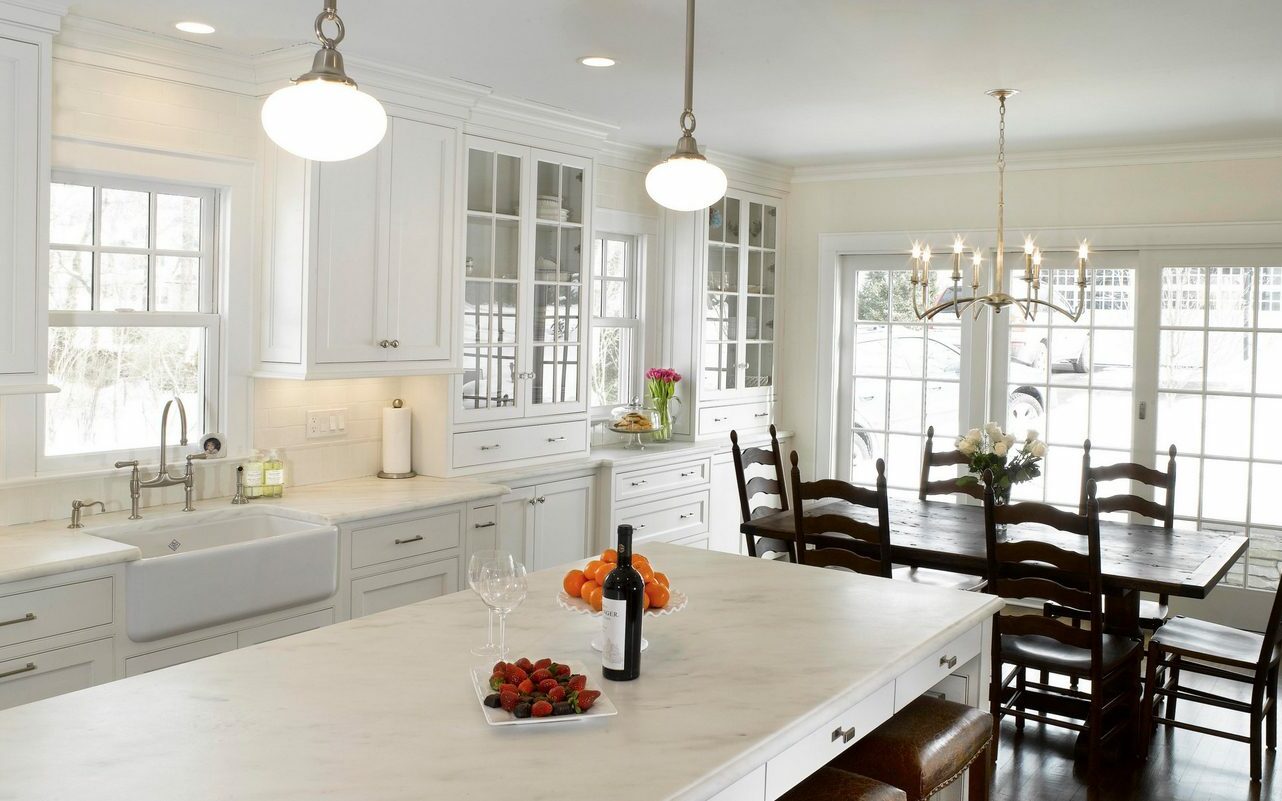 Lighting
The appropriate combination of task, atmosphere, accent, and decorative lighting is key to your kitchen. The countertop area needs to be brightly lit for food preparation, while the dining area should have a gentle, calming atmosphere. Accent lighting can call attention to specific design elements in the kitchen, such as the tiles, cabinets, and countertops.
There are many types of lighting fixtures for kitchen redesign, including recessed lighting, pendant fixtures, and under-cabinet strips. Each of these fixtures has its own design and light output capabilities. Recessed lighting is perfect for evenly distributing light throughout the room, while pendant fixtures can be a stylish focal point. Under cabinet, strips are ideal for illuminating countertops and providing task lighting.
In recent years, LED lighting has become the preferred choice for kitchen remodeling. LED lights have a long life span, are energy-efficient, and come in various shades and colors to complement any kitchen design. These lights are perfect for any remodel, as they can easily integrate into a wide range of lighting fixtures. With LED lighting, homeowners can create a warm and inviting atmosphere while still having the necessary task lighting for cooking and prepping.
Conclusion
Investing in a well-planned kitchen remodel can transform your home's functionality and increase its value. Consider carefully selecting the essential components, like appliances, cabinets, countertops, sinks, flooring, and lighting, to create your ideal space. Not only will it look great, but it will also make entertaining and cooking more enjoyable. Begin the process today and create your dream kitchen!