Are you considering building a home mini bar but need help figuring out where to start? We've got you covered! Let's explore key mini bar elements, design considerations, and creative projects below:
What is a Home Mini Bar?
A home wet bar is a luxurious addition to any residence, perfect for entertaining and hosting guests. It's an area of your home designed specifically for preparing and enjoying a relaxing beverage. This type of bar usually consists of cabinets, shelves, and counters fitted with wine racks, bottle openers, blenders and other cocktail making essentials. Home mini-bars can be large or small, depending on your space and budget.
How to Design your Home Mini Bar
Before beginning the process of building and designing your home mini bar, it's essential to reflect on your needs. Consider your mini bar's location and how it will aesthetically integrate into your home. The bar should be easily and centrally accessible from the spaces where your guests typically gather. Furthermore, it should match your home's aesthetic and ambiance, so reflect on your design needs before making your final decision. Lastly, consider choosing durable materials for your mini bar that will withstand the test of time— including walls, cabinets, and hardware. Your mini bar should also include the necessary shelving, storage, and drinkware to be as practical as possible.
What to Include in your Home Mini Bar?
Knowing where to start with your home mini bar or wet bar can be overwhelming. Before going further, reflect on the considerations below:
Mini fridge
As the name suggests, mini bars are often small, so avoid taking up precious bar real estate with an oversized fridge. A mini fridge provides the perfect solution to cool your beverages without over-cluttering the space.
Wine cooler
A wine cooler is a fantastic addition to any mini bar, especially to keep your wine at the ideal temperature. Depending on your needs and available space, wine coolers can range in size from extra small to the size of a conventional refrigerator.
Ice Maker
Serve ice efficiently without having to make or constantly replenish your ice trays. Any mini bar would benefit from adding an ice maker to keep drinks cold at all times.
Counter Space
Depending on your preference and available space, you can choose a high counter, prep counter, or service countertop. Consider selecting a sturdy material like marble, granite, or wood slab for longevity.
Mixing Station
Invest in a mixing station to make sure your mini bar functions optimally. A mixing station includes elements such as an ice bin, wells for mixers, tools, and a garnish station. To add design elements to your mixing station, consider wall decals, appliques, or other decorations.
Bar Sink
A bar sink is an excellent addition to your home mini bar. Bar sinks are generally 12-18 inches square and are usually decorative, featuring copper, pewter, bronze, or stainless steel. We suggest matching your sink materials with other fixtures in your home mini bar space to guarantee a cohesive design.
Display Shelving
Display shelving is perfect for neatly storing your items at your home bar and showing them off, too. As the name suggests, display shelving is a cabinet shelf showing off your apparel, ornaments, or glassware. Options include Floating Shelves, Single Wall Shelving, and Glass Shelves. Another benefit of display shelving is that it helps you be more neat and organized, as your visitors can see your display in plain sight.
Garbage Disposal
Keeping your garbage organized is essential to manage your home mini bar successfully. After all, you don\'t want your guests smelling anything unpleasant as they enjoy a drink! Keep the stench from your mini bar by investing in the proper garbage disposal. Scrape your fruit and various cocktail-making ingredients in the sink and allow the garbage disposal to do the work for you.
Dishwasher
Many people integrate a dishwasher into their mini bar, space allowing. Instead of taking up precious real estate with a conventionally sized dishwasher, consider a mini dishwasher. This will allow you to easily wash your glassware without transferring your items back and forth from your main dishwasher or sink.
Storage
Storage in your mini bar will depend on the space you have available. If you are tight for space, consider wall shelves for additional storage, which require minimal shelf space. If you have adequate space to work with, consider an open box shelf that doubles as storage. Space allowing, you can also include wine storage, such as a wine cooler. A wine cooler is an excellent choice as it contains compartments for wine storage. Other options include closed storage compartments, nooks, and wine racks.
Decorations
After determining your home mini bar's location, design, and storage requirements, you can start decorating! Consider adding items like bar carts, mirrors, nooks, decorative trays, and wine racks.
Home Mini Bar Projects & Ideas
Are you looking for fun and inspiring ideas for your home mini bar or wet bar project? We've got you covered! Explore our featured home mini bar and wet bar projects below:
Chatham Eclectic Transitional Home Renovation
This home renovation included the addition of an eclectic home bar, which the Hofmann Design Build Team created. The team's creation comes complete with dark navy cabinetry, gold fixtures, and ample countertop space to display their stunning collection of glassware and trays.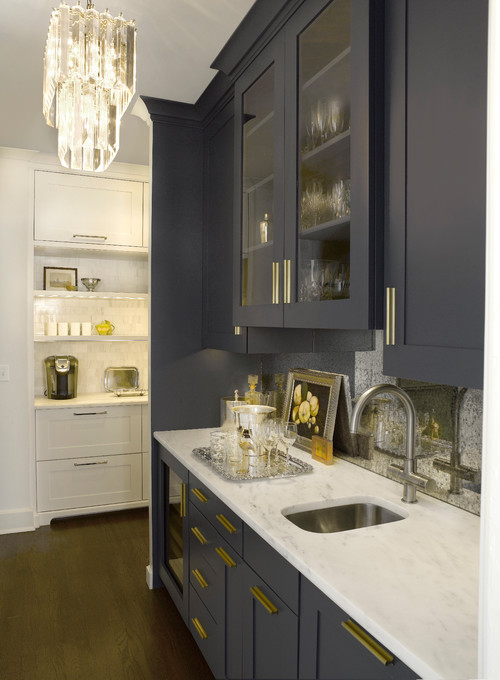 Madison Historic Home Renovation
The Hofmann Design Build Team completed this historic revamp project, with the addition of a transitional home bar. Core design elements include light gray cabinetry with gold fixtures, complete with glass to display the homeowners' impressive glassware collection. Bar decorations include eclectic elements such as ornaments, plants, and a silver tray to arrange drinks.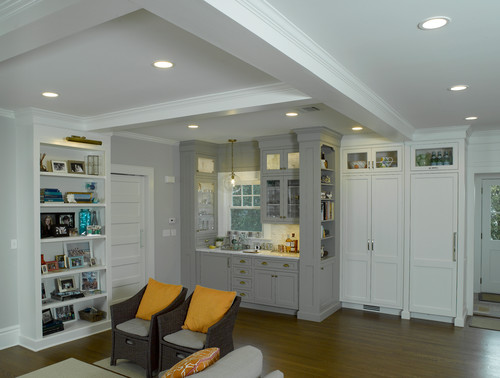 Morristown Home Renovation and Addition
The team integrated a clean, modern aesthetic into the form of this stunning white mini bar. It includes a sink with a modern faucet, a zig-zag backsplash, and ample storage with pull-out drawers and overhead glass display cabinets.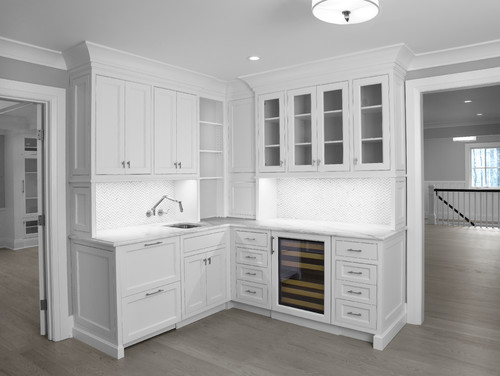 Summit Green and Blue Accents Kitchen
The team renovated this unique kitchen space, which includes a small bar installed near the cooking area for added convenience. This bar includes deep wood counters, glass cabinets, and a tray for drinks.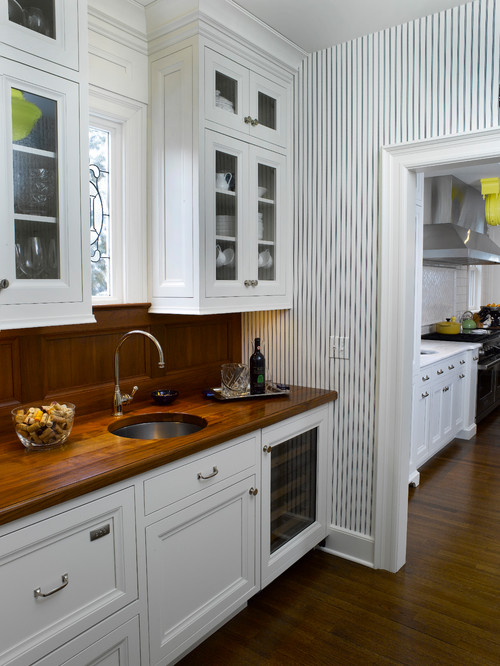 Madison Modern Renovation
With the help of extra space, the team installed a mini bar in the kitchen, complete with an island and plentiful storage. The bar includes open display shelves with drinks apparel, glass cabinets, and a generous sink complete with a silver faucet.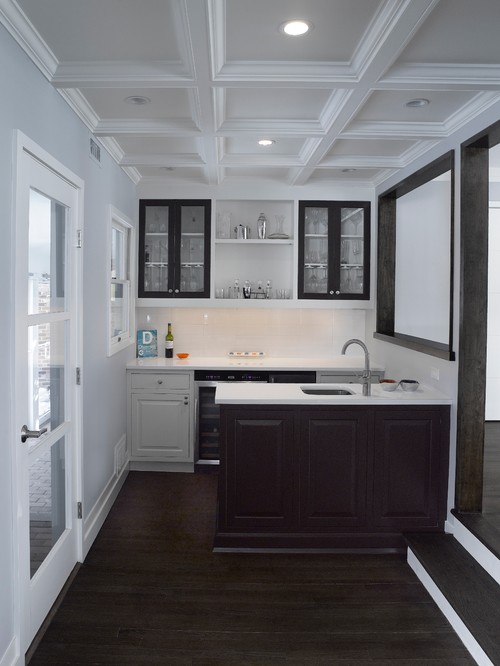 Basking Ridge Home Renovation
For the ultimate convenience, the team installed this mini bar in the heart of the homeowner's kitchen. The mini bar stands out against white cabinets in dark mahogany wood— including overhead display cabinets, a granite countertop, a sink, and a mini refrigerator.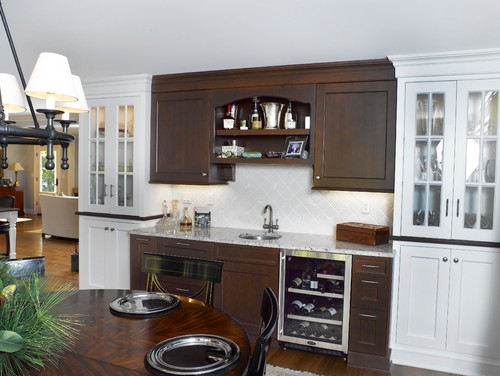 ‌Conclusion
Discover the thrill of crafting the perfect home mini bar! Let our team elevate your space through a personalized consultation. Connect with us – we're eager to bring your vision to life.